Merchant map built on Maps SDK
Powering the PhonePe merchant map, MapmyIndia's Maps SDK brings extreme granularity in visualising nearby shopping, healthcare, food and other merchant outlets.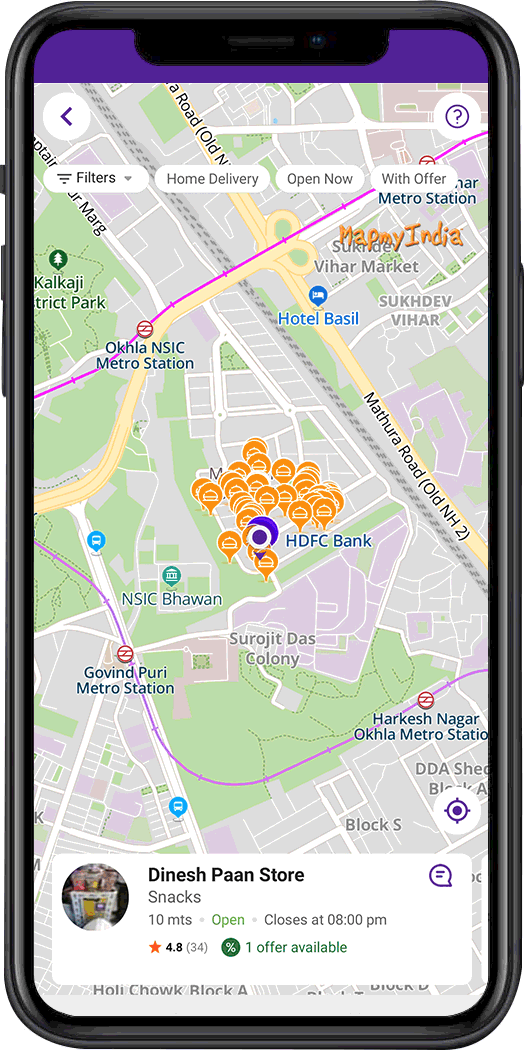 View PhonePe merchant mapped out on MapmyIndia's Maps SDK
Nearby merchant discovery
300 million+ PhonePe users can view their current location on the map and search for hyperlocal merchants that accept PhonePe. The individual merchants are discoverable along with MapmyIndia's rich point of interest (POI) details.
Discover nearby PhonePe merchants along with outlet details
powered by MapmyIndia's rich POI data
Directions to merchant outlets
Once PhonePe users have discovered the merchant of their choice, MapmyIndia also provides the best possible route to the merchant's location, along with walking and driving travel times. This is powered by MapmyIndia's Routes & Navigation APIs.
Get directions to PhonePe merchant outlets with MapmyIndia's Routing API